Governor of Connecticut, 1915-1921
Born: November 28, 1844, New Hartford, CT
College: None
Political Party: Democrat; Republican
Offices: Judge, Southington Probate District, 1873-1910
Treasurer of Hartford County, 1893-1910
Connecticut General Assembly, Senate, 1893
Speaker, CT House of Representatives, 1905-1906
First Judge, Borough Court of Southington, 1906-1909
Connecticut Attorney General, 1907-1910
Judge, State Superior Court, 1910-1914
Governor of Connecticut, 1915-1921
Died: March 5, 1932, Southington, CT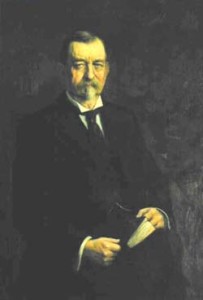 The Holcomb family had been in Connecticut many generations by the time Marcus Hensey Holcomb was born on November 28, 1844. Thomas Holcomb, the first of the family in America, emigrated from England to Dorchester, Massachusetts, in 1634, and later settled in Windsor, Connecticut. Carlos Holcomb, Marcus's father, married Adah L. Bushnell, May 8, 1838, in Hartland. The family later settled in New Hartford and it was here where Marcus H. Holcomb was born.
As a child, Marcus attended local schools. He went on to attend Wesleyan Seminary in Wilbraham, Massachusetts, but ill health prevented him from pursuing college. Holcomb taught school while he studied law in the office of Jared B. Foster of New Hartford. On November 15, 1871, he was admitted to the bar, and he began practice in Southington the following year. In 1893, Holcomb and fellow attorney Noble E. Pierce formed the law practice, Holcomb & Pierce, with offices in Southington, Hartford, and Bristol. Holcomb continued in the practice until 1910, while also pursuing a long and active life of political service.
Marcus Holcomb married Sarah C. Bennett, the daughter of Joseph L. and Sarah C. (Weaver-Johnson) Bennett in Hartford on October 16, 1872. Marcus and Sarah made their home in Southington. Sarah was an active member in the first Baptist church and became involved in Sunday school work. They had one child, Marcus Hensey II, but he died in infancy.
In 1873, Holcomb was elected a Judge of the Probate Court of the Southington District, an unusual honor for someone under 30 years old. In 1893, he became a member of the State Senate, and served one term. He was also Treasurer of Hartford County from 1893 to 1910, and First Judge of the Borough Court of Southington from 1906 through 1909.
After twenty-nine years of marriage, Marcus' wife Sarah passed away on December 3, 1901. Her funeral took place at the Holcomb home in Southington, and was attended by many relatives and friends. She is buried in the Oak Hill Cemetery in Southington, next to their son Marcus Hensey II.
In 1902, Holcomb was chosen as a delegate from Southington to the state Constitutional Convention. In 1905, Holcomb served as Speaker of the House of Representatives. At the Republican State Convention in 1906, he was selected as the candidate for Attorney General. He went on to win the election against Democratic candidate William B. Stoddard by 1,410 votes.
In 1909, Governor Frank B. Weeks nominated Holcomb to be Judge of the State Superior Court. He resigned as Attorney General to take up this position. He served as Judge of the Superior Court from 1910 to 1914, at which time he reached the court's mandatory retirement age of 70.
Holcomb was a Democrat until 1888, when his feelings about tariff issues caused him to change parties and become a Republican. After his retirement from the Superior Court, Holcomb had no plans to run for office again. However, J. Henry Roraback, the new chairman of the Republican Party, convinced a reluctant Holcomb that his party needed him to run for governor and that he would win. In the 1914 election he ran against Democratic opponent Lyman Tingier, gaining 91,262 votes to Tingier's 73,888, and became the forty-eighth governor of Connecticut.
Once in office, Holcomb discovered that he enjoyed being governor and ran for reelection in 1916 and 1918, becoming the State's first three-term Governor since the adoption of the biennial term. During the six years that Holcomb was governor the General Assembly passed acts that established a retirement program for teachers, created a health insurance program, and limited the hours that women were allowed to work in factories. However, a major part of his time in office was taken up with Connecticut's role in World War I. Holcomb became a "War Governor" and was sometimes compared to William Buckingham (Civil War) and Jonathan Trumbull, Sr. (Revolution). One of his ceremonial tasks was to visit Lebanon, Connecticut, during the war to honor those former governors and their birthplaces there.
During Holcomb's administration, the State energetically contributed to the war effort. Holcomb prepared by creating a complete census of men and materials, appointing a State Council of Defense and a Food Supply Council, and creating a Home Guard, which at the end of 1917 had 20,000 men, 10,000 of whom were armed, equipped, and trained. In September of 1918, Holcomb hosted a luncheon for members of the French Army Band. The reception was held in the State Library's Memorial Hall where Holcomb's portrait was already on display.
After the war, a major issue in the United States was an amendment to the Constitution that would allow women to vote. On June 4, 1919, the United State Congress voted to approve the Nineteenth Amendment and sent the bill to the states for ratification. When it came time for Connecticut to vote on this amendment, the Legislature was not in session and Holcomb refused to have it meet because he did not see this vote as constituting an emergency. This angered those who supported Women's Suffrage and led to an effort to force the governor to act. However, only after the Nineteenth Amendment became law did he call a special session, and this was only to develop a mechanism so that the new voters could be registered in time for the next election.
Holcomb chose to leave office rather than run for a fourth term. He remained active in his business and private interests, one of which was as president of the Southington Savings Bank. He remained close to Roraback and other party leaders and was known to them as "Uncle Marcus."
Governor Holcomb passed away March 5, 1932, at his home in Southington. Former Governor Charles A. Templeton paid tribute to Holcomb as a "man of great personal magnetism and one that everyone loved." 1 Governor Holcomb's obituary goes on to say, "No man loved his State more or knew it and its people better. He was a true son of Connecticut, not by birth alone but in loyalty, and in spirit and understanding. He was a wise man, a truly great man and a very gentle man."
On the day of his funeral, town offices in Southington were closed. Holcomb is buried next to his wife in the Oak Hill Cemetery in Southington. His home on Main Street is now a Masonic Lodge. Holcomb Hall at the University of Connecticut is named after him.
Notes
1 "Gov. Holcomb Funeral Will Be Tuesday." The Hartford Courant, March 7, 1932, p. 4
Bibliography
Burpee, Charles W. History of Hartford County, Connecticut, 1633-1928. 3 vols. Chicago: S.J. Clark, 1928, vol. 3, pp. 5-6 [CSL call number F 102 . H3 B8 1928].
Connecticut State Council of Defense. Souvenir of the Pilgrimage of Connecticut's Third "War Governor" to the Homes of the First and Second "War Governors" and Other Scenes of Historic Interest … Westerly, RI: Stedman Press, 1918 [CSL call number Conn Doc St291 so].
Connecticut Supreme Court of Errors. "Obituary Sketch of Marcus H. Holcomb," Cases Argued and Determined in the Supreme Court of Errors of the State of Connecticut. CT : Saybrook Press, 1976-1983, vol. 115, pp. 735-736 [CSL call number KFC 3645 .A2].
Crofut, Florence S. Marcy. Guide to the History and the Historic Sites of Connecticut. New Haven, Yale University Press, 1937 [CSL call number History Reference F 94 .C88 1937].
"Death of Judge Holcomb's Wife." The Hartford Courant, Dec. 4, 1901, p. 2; digital images, Historical Hartford Courant, 1764- 1922 (http://www.proquest.com/ : 20 Oct 2009).
"French Army Band Guests of the City." The Hartford Courant, Sept. 17, 1918, p. 3; digital images, Historical Hartford Courant, 1764-1922 (http://www.proquest.com/ : 20 Oct 2009).
"Funeral of Mrs. Holcomb." The Hartford Courant, Dec. 6, 1901, p. 12; digital images, Historical Hartford Courant, 1764-1922 (http://www.proquest.com/ : 20 Oct 2009).
"Gov. Holcomb 87, Dies in Southington." The Hartford Courant, March 6, 1932, p. 1; digital images, Historical Hartford Courant, 1923-1984(http://www.proquest.com/ : 20 Oct 2009).
"Gov. Holcomb Funeral Will Be Tuesday." The Hartford Courant, March 7, 1932, p. 4; digital images, Historical Hartford Courant, 1923-1984(http://www.proquest.com/ : 20 Oct 2009).
"Hartford's Vote; 1,000 Plurality on State Ticket." The Hartford Courant, Nov. 7, 1906, p. 3; digital images, Historical Hartford Courant, 1764-1922 (http://www.proquest.com/ : 20 Oct 2009).
Highways & Byways of Connecticut. Hartford: G. Fox & Co., [1947] [CSL call number F 94 .H54 1947].
Holcomb, Marcus. "Connecticut in the Van," American Monthly Review of Reviews LVII (May, 1918), New York, Review of Reviews, 1907-1928, [CSL call number Z 9999 .R48].
McPherson, Hannah Elizabeth Weir. The Holcombes, Nation Builders – Their Biographies, Genealogies and Pedigrees. Washington, 1947 [CSL call number CS 71 .H725 1947].
Marcus Hensey Holcomb. [S.I. : s.n., 1932] [CSL call number Special Collections F 100 .H68 M37 1932].
Pallante, Martha. "Nineteenth Amendment to the U.S. Constitution: Document Analysis." Milestone Documents in American History. Schlager Group, 2008; digital images, Salem History, Salem Press (20 Oct 2009).
Sobel, Robert and John Raimo. Biographical Directory of the Governors of the United States, 1789-1978. Westport, CT: Meckler Books, 1978 [CSL call number GIRS Reference E 176 .B573].
State Archives Record Group 005, Records of the Governors. Please see the Rules and Procedures for Researchers Using Archival Records and Secured Collections Materials.
Van Dusen, Albert E. Connecticut. New York: Random House, 1961 [CSL call number History Reference F 94 .V3].
Portrait
45" x 57" in its frame, painted ca. 1915 by Bessie Maie Weaver, who was the governor's niece.
Originally prepared by David O. White, Museum of Connecticut History, Connecticut State Library. Edited and revised by CSL Staff, October 2009.