Exhibits to show the impact of the great war, both on the home front and in France (1917 – 1919).
During World War 1 the Battleship U.S.S. Connecticut remained in home waters, of York River, Virginia. More than 1,000 trainees—midshipmen and gun crews for merchant ships—took part in exercises on her while she sailed in Chesapeake Bay and off the Virginia Capes. The Battleship was assigned to the Cruiser and Transport Command and spent the first half of 1919 bringing troops home from Europe.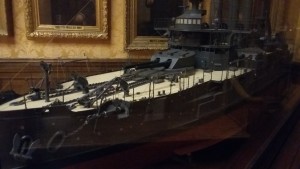 Images: U.S.S. Connecticut model loaned by the U.S. Department of the Navy.
April20By His Excellency Dannel P. Malloy, Governor: an Official Statement Concerning Seicheprey Day
Personal Effects Box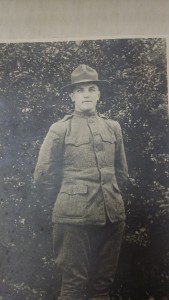 After being wounded at the battle of Chateau-Thierry, the doctors didn't think Jacob Bernasconi was going to survive, so the Army packed up all his personal belongings and shipped them back to his fiancee. Augusta (Gussie) Marie Firnhaber in New Britain, Connecticut. The Personal Effects Bureau, whose seals can still be seen on the box, was responsible for distributing the personal effects of America's soldiers fallen in battle. The baby shoes, which were Gussies, were sent to Jacob as a token of good luck. Jacob received a Purple Heart for his injuries. He survived the war and more about him can be seen at the exhibit.
Exhibit of items from the Museum of Connecticut History
Resources: