With Links to Biographical Sketches, Portraits, and Guides to Archival Records of Connecticut Governors
State Library staff have created brief biographical sketches and bibliographies of many of the governors. This is an ongoing project, and we hope to have sketches of all of the governors completed in the future. The currently available sketches, portraits, and guides to archival records are linked from the governor's name.  The Official Governor's Portraits Collection may be seen at the Museum of Connecticut History.
Additional biographical resources, and more information about archival records can be found on the Governors of Connecticut: Resources and Publications page.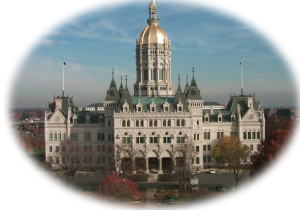 The laws of Connecticut did not allow governors to serve consecutive terms until 1660. In 1875, voters approved an amendment to the State Constitution increasing the term of the governor to two years. The 1965 State Constitution increased the term from two to four years.